Meet Josh Turner (IDS)—Riverside Research's 2018 United States Geospatial Intelligence Foundation (USGIF) Ken Miller scholarship recipient, which is awarded annually to one master's student planning to enter the defense/intelligence workforce. At the time, Josh was attending North Carolina State University in pursuit of his master's in geospatial information science and technology, while also in active duty for the U.S. Air Force (USAF). He has since received his graduate certificate and retired from the USAF after serving 20+ years.
Upon retiring, Josh and his immediate family wanted to relocate to be closer to extended family in Michigan, so he was excited when he learned about an opportunity to work at one of our customer sites in Ohio. Six months later, Josh joined us as a GEOINT data scientist. He provides imagery and collection analysis for event flight reconstruction and creates new analytical workflows for dynamically changing mission sets.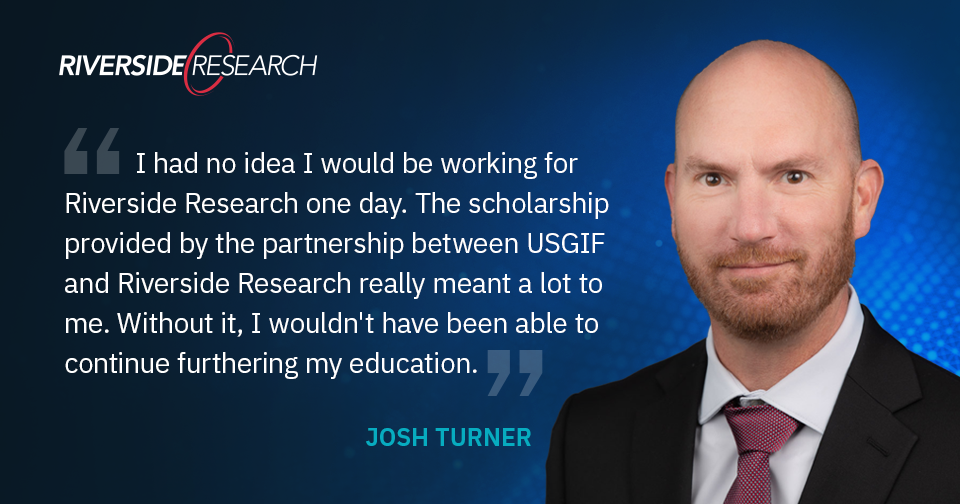 Josh's journey from scholarship recipient to full-time employee stands as a beacon of inspiration for others, showcasing the remarkable transformations that can occur when education, support, and determination intersect on the path to success.
We are so happy to have you on our team, Josh!